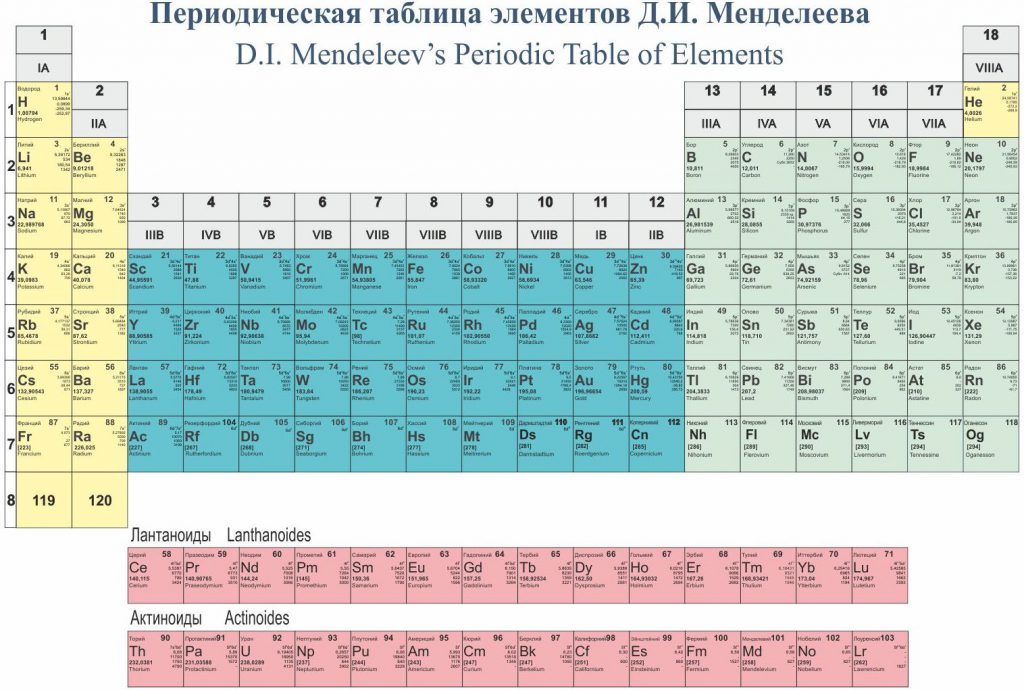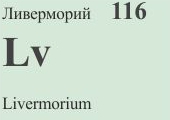 Livermorium is a synthetic chemical element with symbol Lv and atomic number 116. It is an extremely radioactive element that has only been created in the laboratory and has not been observed in nature.


Livermorium was first synthesized on July 19, 2000 by a team ofscientists at the Joint Institute for Nuclear Research (JINR) in Dubna, Russia.
In 2011, IUPAC evaluated the Dubna team experiments of 2000–2006. Whereas they found the earliest data (not involving 291v and 283Cn) inconclusive, the results of 2004–2006 were accepted as identification of livermorium, and the element was officially recognized as having been discovered.
IUPAC Technical Report dated

01.06.2011

.
Yu.Ts. Oganessian, V.K. Utyonkov, Yu.V. Lobanov, F.Sh. Abdullin, A.N. Polyakov, I.V. Shirokovsky, Yu.S. Tsyganov, G.G. Gulbekian, S.L. Bogomolov, B.N. Gikal, A.N. Mezentsev, S. Iliev, V.G. Subbotin, A.M. Sukhov, O.V. Ivanov, G.V. Buklanov, K. Subotic, M.G. Itkis, K.J. Moody, J.F. Wild, N.J. Stoyer, M.A. Stoyer, R.W. Lougheed, C.A. Laue, Ye.A. Karelin, A.N. Tatarinov. "Observation of the Decay of 292116″. Phys. Rev. C 63, 011301(R) (2001).
download: [ pdf ] (37Kb)

Yu.Ts. Oganessian, V.K. Utyonkov, Yu.V. Lobanov, F.Sh. Abdullin, A.N. Polyakov, I.V. Shirokovsky, Yu.S. Tsyganov, G.G. Gulbekian, S.L. Bogomolov, B.N. Gikal, A.N. Mezentsev, S. Iliev, V.G. Subbotin, A.M. Sukhov, A.A. Voinov, G.V. Buklanov, K. Subotic, V.I. Zagrebaev, M.G. Itkis, J.B. Patin, K.J. Moody, J.F. Wild, M.A. Stoyer, N.J. Stoyer, D.A. Shaughnessy, J.M. Kenneally, and R.W. Lougheed. "Measurements of cross sections for the fusion-evaporation reactions 244Pu(48Ca, xn)292-x114 and 245Cm(48Ca, xn)293-x116″. Phys. Rev. C 69, 054607 (2004).
download: [ pdf ] (105Kb)

Yu.Ts. Oganessian, V.K. Utyonkov, Yu.V. Lobanov, F.Sh. Abdullin, A.N. Polyakov, I.V. Shirokovsky, Yu.S. Tsyganov, G.G. Gulbekian, S.L. Bogomolov, B.N. Gikal, A.N. Mezentsev, S. Iliev, V.G. Subbotin, A.M. Sukhov, A.A. Voinov, G.V. Buklanov, K. Subotic, V.I. Zagrebaev, M.G. Itkis, J.B. Patin, K.J. Moody, J.F. Wild, M.A. Stoyer, N.J. Stoyer, D.A. Shaughnessy, J.M. Kenneally, P.A. Wilk, R.W. Lougheed, R.I. Il'kaev, and S.P. Vesnovskii. "Measurements of cross sections and decay properties of the isotopes of elements 112, 114 and 116 produced in the fusion reactions 233,238U, 242Pu, and 248Cm + 48Ca". Phys. Rev. C 70, 064609 (2004).
download: [ pdf ] (303Kb)

Yu.Ts. Oganessian, V.K. Utyonkov, Yu.V. Lobanov, F.Sh. Abdullin, A.N. Polyakov, R.N. Sagaidak, I.V. Shirokovsky, Yu.S. Tsyganov, A.A. Voinov, G.G. Gulbekian, S.L. Bogomolov, B.N. Gikal, A.N. Mezentsev, S. Iliev, V.G. Subbotin, A.M. Sukhov, K. Subotic, V.I. Zagrebaev, G.K. Vostokin, M.G. Itkis, K.J. Moody, J.B. Patin, D.A. Shaughnessy, M.A. Stoyer, N.J. Stoyer, P.A. Wilk, J.M. Kenneally, J.H. Landrum, J.F. Wild, and R.W. Lougheed. "Synthesis of the isotopes of elements 118 and 116 in the 249Cf and 245Cm+48Ca fusion reactions". Phys. Rev. C 74, 044602 (2006).
download: [ pdf ] (500kb)