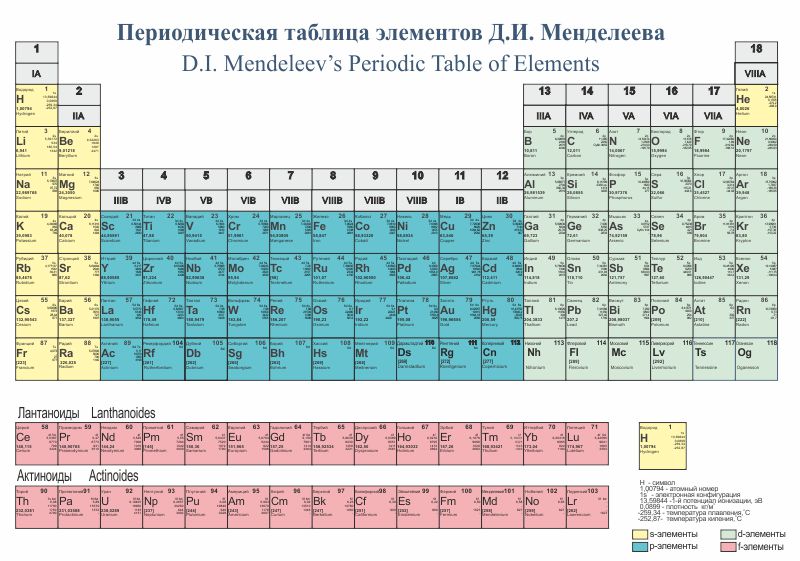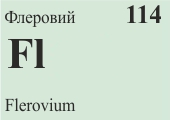 Flerovium is a superheavy artificial chemical element with symbol Fl and atomic number 114. It is an extremely radioactive synthetic element.
Flerovium was first synthesized in December 1998 by a team of scientists at the Joint Institute for Nuclear Research (JINR) in Dubna, Russia.
"A new element synthesized", JINR News, N1, 1999
In 2011, IUPAC evaluated the Dubna team experiments of 1999–2007. They found the early data inconclusive, but accepted the results of 2004–2007 as flerovium, and the element was officially recognized as having been discovered.
IUPAC Technical Report dated 01.06.2011.
Related articles
Yu.Ts. Oganessian, V.K. Utyonkov, Yu.V. Lobanov, F.Sh. Abdullin, A.N. Polyakov, I.V. Shirokovsky, Yu.S. Tsyganov, G.G. Gulbekian, S.L. Bogomolov, B.N. Gikal, A.N. Mezentsev, S. Iliev, V.G. Subbotin, A.M. Sukhov, O.V. Ivanov, G.V. Buklanov, K.Subotic, M.G. Itkis, K.J. Moody, J.F. Wild, N.J. Stoyer, M.A. Stoyer, and R.W. Lougheed. "Synthesis of Superheavy Nuclei in the 48Ca + 244Pu Reaction: 288114″. Phys. Rev. C 62, 041604(R) (2000). download: [ pdf ] (56Kb)
Yu.Ts. Oganessian, V.K. Utyonkov, Yu.V. Lobanov, F.Sh. Abdullin, A.N. Polyakov, I.V. Shirokovsky, Yu.S. Tsyganov, G.G. Gulbekian, S.L. Bogomolov, B.N. Gikal, A.N. Mezentsev, S. Iliev, V.G. Subbotin, A.M. Sukhov, O.V. Ivanov, G.V. Buklanov, K. Subotic, M.G. Itkis, K.J. Moody, J.F. Wild, N.J. Stoyer, M.A. Stoyer, R.W. Lougheed, C.A. Laue, Ye.A. Karelin, A.N. Tatarinov. "Observation of the Decay of 292116″. Phys. Rev. C 63, 011301(R) (2001). download: [ pdf ] (38Kb)
Yu.Ts. Oganessian, V.K. Utyonkov, Yu.V. Lobanov, F.Sh. Abdullin, A.N. Polyakov, I.V. Shirokovsky, Yu.S. Tsyganov, G.G. Gulbekian, S.L. Bogomolov, B.N. Gikal, A.N. Mezentsev, S. Iliev, V.G. Subbotin, A.M. Sukhov, A.A. Voinov, G.V. Buklanov, K. Subotic, V.I. Zagrebaev, M.G. Itkis, J.B. Patin, K.J. Moody, J.F. Wild, M.A. Stoyer, N.J. Stoyer, D.A. Shaughnessy, J.M. Kenneally, and R.W. Lougheed. "Measurements of cross sections for the fusion-evaporation reactions 244Pu(48Ca, xn)292-x114 and 245Cm(48Ca, xn)293-x116″. Phys. Rev. C 69, 054607 (2004). download: [ pdf ] (106Kb)
Yu.Ts. Oganessian, V.K. Utyonkov, Yu.V. Lobanov, F.Sh. Abdullin, A.N. Polyakov, I.V. Shirokovsky, Yu.S. Tsyganov, G.G. Gulbekian, S.L. Bogomolov, B.N. Gikal, A.N. Mezentsev, S. Iliev, V.G. Subbotin, A.M. Sukhov, A.A. Voinov, G.V. Buklanov, K. Subotic, V.I. Zagrebaev, M.G. Itkis, J.B. Patin, K.J. Moody, J.F. Wild, M.A. Stoyer, N.J. Stoyer, D.A. Shaughnessy, J.M. Kenneally, P.A. Wilk, R.W. Lougheed, R.I. Il'kaev, and S.P. Vesnovskii. "Measurements of cross sections and decay properties of the isotopes of elements 112, 114 and 116 produced in the fusion reactions 233,238U, 242Pu, and 248Cm + 48Ca" Phys. Rev. C 70, 064609 (2004). download: [ pdf ] (304Kb)
Yu.Ts. Oganessian, V.K. Utyonkov, Yu.V. Lobanov, F.Sh. Abdullin, A.N. Polyakov, R.N. Sagaidak, I.V. Shirokovsky, Yu.S. Tsyganov, A.A. Voinov, G.G. Gulbekian, S.L. Bogomolov, B.N. Gikal, A.N. Mezentsev, S. Iliev, V.G. Subbotin, A.M. Sukhov, K. Subotic, V.I. Zagrebaev, G.K. Vostokin, M.G. Itkis, K.J. Moody, J.B. Patin, D.A. Shaughnessy, M.A. Stoyer, N.J. Stoyer, P.A. Wilk, J.M. Kenneally, J.H. Landrum, J.F. Wild, and R.W. Lougheed. "Synthesis of the isotopes of elements 118 and 116 in the 249Cf and 245Cm+48Ca fusion reactions". Phys. Rev. C 74, 044602 (2006).
download: [ pdf ] (499Kb)